Microstar Quality Control Measures
Know about our quality control measures process of used computer hardware
Our Quality Control Measures to Test Hardware
We are a computers store first and foremost. We are not a broker, we do not receive computers on pallets and immediately ship them back out, we fully test each and every system. If you buy a bulk quantity of computers from a broker at an extraordinarily low price is it worth having the problems and headaches because of lack of proper testing in exchange for saving a few dollars?
Every hard drive we sell (or install inside a computer) is fully tested with Hitachi/IBM DFT(Drive Fitness Test) utility, SMART tests HD, Checks all sectors on the drive are sequentially read and written to, then read back from the original testing sector, next we run PCcheck which does hi-low seek, funnel seek, track to track seek, random seek, linear verify and random verify on each sector, next we use the old fashion ms-dos format and if the testing drive tries to recover any allocation units it is sent to our recycle area. By the time all our sector integrity tests are completed without interruption you can be assured the drive will truly be error free.
Hard Drive Testing Area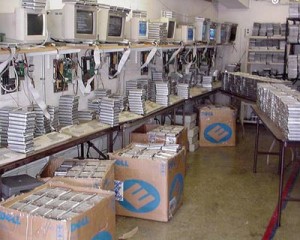 Needing small hard drives for the future?
What are companies going to do in 2005 when there are no more small ide hard drives available? Many older computer systems will not function on a hard drive higher than 8 gig. Hard drives are the most overworked component inside a computer (and they are in constant use) so in time they are bound to fail, and considering that they do not manufacture hard drives under 20 gigs anymore, demand for smaller IDE hard drives will easily exceed the dwindling supply and pretty soon they will all be gone, so if your company anticipates using smaller drives in the next 5 years you may want to stock up, don't be surprised if 4 gigs cost as much as 80 gigs in the near future.
Monitor Testing Area

Each and every monitor we sell is burned in for 4 hours, this eliminates selling a monitor that may blur or become erratic once it gets hot.
Micro-Star Computers – Used Computers
Florida's Micro-Star computers is a buy-sell-trade used computers store. We carry a great variety of used computers and used laptops. All our used hardware and computers are reasonably priced. We have many types of used hardware and used accessories. See monthly for computers and used hardware at even better prices. Save big with used systems.
Our in-house technicians configure and test all our computers. All our used monitors are burned in for four hours. This eliminates selling used monitors that could blur or become erratic once it gets hot. Every used hard drive we sell is fully low-level formatted for surface integrity. So every one of our computers has a used but fully tested hard drive.
Shipping Info of New Computers & Used Computers
We ship used computers domestic and internationally. 30-day warranty on used parts and 1-year warranty on new computer parts. Buying used computer is perfect for those families who needs extra computer for their kids to use.